Excellence that leaves an impression which standardizes a service or contribution to an extent that it deserves to get recognition, fame and position in our social, professional and competitive environment.
ASSOCHAM National Education Excellence Awards, 2018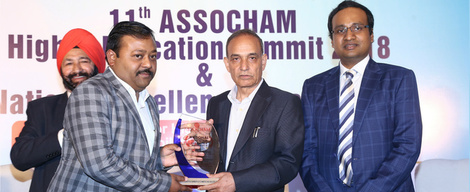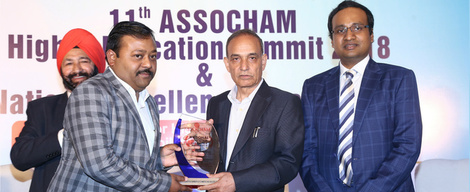 ASSOCHAM presented National Education Excellence Awards to those who have contributed significantly in the field of improving the quality in education, delivery mechanism with emphasis on world-class research and innovations in enhancing the development of quality education, with employability. Symbol of recognition - for the valuable contribution and excellent innovation by education institutions and service providers across the nation, thus setting a landmark in the education industry.
The jury this year was a panel of personalities across significant domains of the social set-up, who, brilliantly adapted as they were, would apply their expertise and adroit wisdom to arrive at the most reasoned and deserved of judgments. ASSOCHAM assured that the entire process of evaluation and assessment was conducted by the esteemed jury with highest tenets of transparency and accountability.
Uttam Institutions being conferred "The Best Management Institute of Uttar Pradesh in 2018 by Union HRD Minister of State Mr. Satya Pal Singh in the presence of ho'ble cabinet Minister Dr. Harsh Vardhan, AICTE vice-chairman Mr. M.P.Pooniya and Assocham Secretary General Mr. D.S. Rawat"